Tampa developer to build $65M luxury apartments in Kissimmee's Sunrise City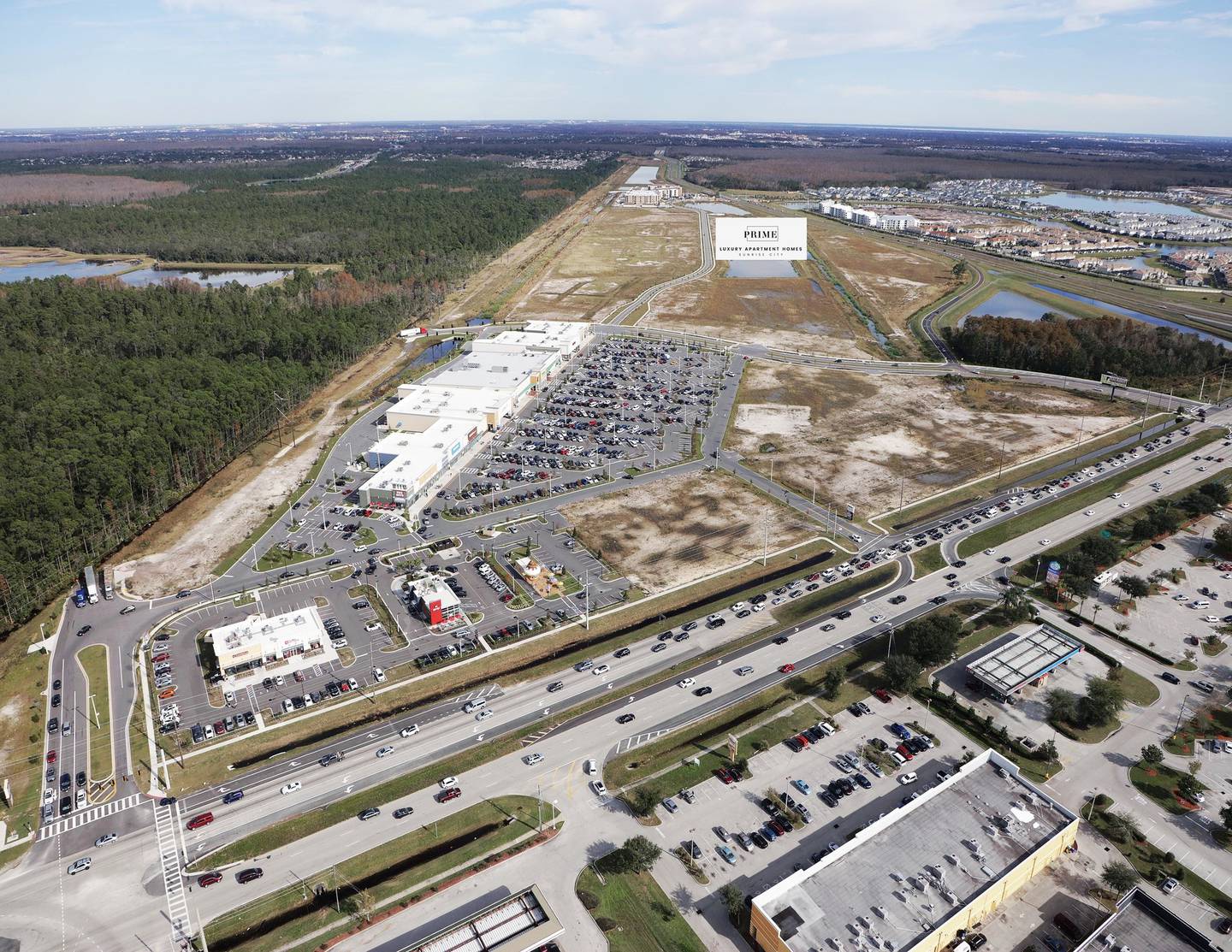 Tampa-based Sembler Investments has filed construction plans for a 340-unit apartment complex in the Sunrise City mixed-use district in Kissimmee's tourism corridor.
This would be the second multifamily community in Sunrise City, following the completion in 2018 of Integra's Sunrise Parc.
Sembler's 2nd Wave Development purchased the 11-acre site last year from master developer, Intram Investments, for $7.5 million. The property lies east of the Publix-anchored retail center, between Sunrise City Drive and Osceola Parkway.
Development Director Mark Sembler told GrowthSpotter the company was drawn to the Orlando market because of its strong economy, job growth and population growth.
"Orlando is really moving now, so that's what's driving us on the macro level," he said. "We love this area. It's up and coming with lots of new development, and it's reflective of the broader move into Osceola. It has great access to jobs, not only at the amusement parks but also to Lockheed Martin and NeoCity."
A Site Development Plan was filed with the county in October for the 4-story, interior corridor, elevator-served building. Sembler said the company expects to invest $65 million in the project, which will break ground in April and should be completed in two years with delivery of the first units in 18 months.
Sembler said the company is raising the bar on design and amenities with a 2-story clubhouse, saltwater pool, yoga lawn, gaming lounge with golf simulator and dog parks for large and small dogs.
"We've tried to amenitize it as much as we can," he said.
The building by Humphreys & Partners is designed around two interior courtyards with lush landscaping, hammock areas, a fire pit, putting green and bocce ball court. The ground floor courtyard-facing units will have patios with direct access to the common space.
Development Manager Alissa Sieben said special attention was paid to the landscaping, with trees and plants that are native to the area. "We want it to feel like you're a part of nature, even though you're surrounded by concrete," she said.
The developer sacrificed six apartment units to create a series of indoor-outdoor covered spaces called "caves" for social gatherings. The lounge cave will have a tvs, a fireplace, pool table, poker table and other games. There's also a designated bar/dining cave for entertaining, and a "functional fitness cave" and a coffee lounge cave.
"Our landscape architect is Dix.Hite," she said. "With them, it's not just about plants. It's about creating spaces that draw people outside."
Special attention was paid to the interior design and space planning of each apartment, Sieben said. Every apartment, regardless of size, will have a kitchen island with a farmhouse apron-front sink and seating.
"We tried to make it as unique as we could and use the space provided in a specialized way," she said. "We tried to think of everything. We have shelves in the shower and built in benches with storage under the window."
The unit breakdown is 181 one-bedroom units, 139 two-bedroom units and 20 three-bedroom units.
Hanson, Walter & Associates is the civil engineer, and First Florida is the general contractor.
Sembler said the proximity to Sunrise City Plaza was key in the company's siting decision. "It's great for our potential residents to be in a more suburban location but still have access to walkable retail," he said.
The 238-acre Sunrise City development has entitlements for 1,000 multifamily units, which could accommodate another 300-plus apartments. The project also has vacation home entitlements, but those units could also be converted to multifamily use, Intram VP Randy Hodge told GrowthSpotter.
"It's all zoned for uses that would permit multifamily, among other uses," he said. "There ultimately will be more multifamily there."
Hodge said the company is in the early planning stages now for the second retail phase at Sunrise City Plaza. "It's three outparcels south of where we are now," he said. "We can do up to 27,000 square feet."