Tampa developer selects site on Lake Whippoorwill for second Orlando-area multifamily project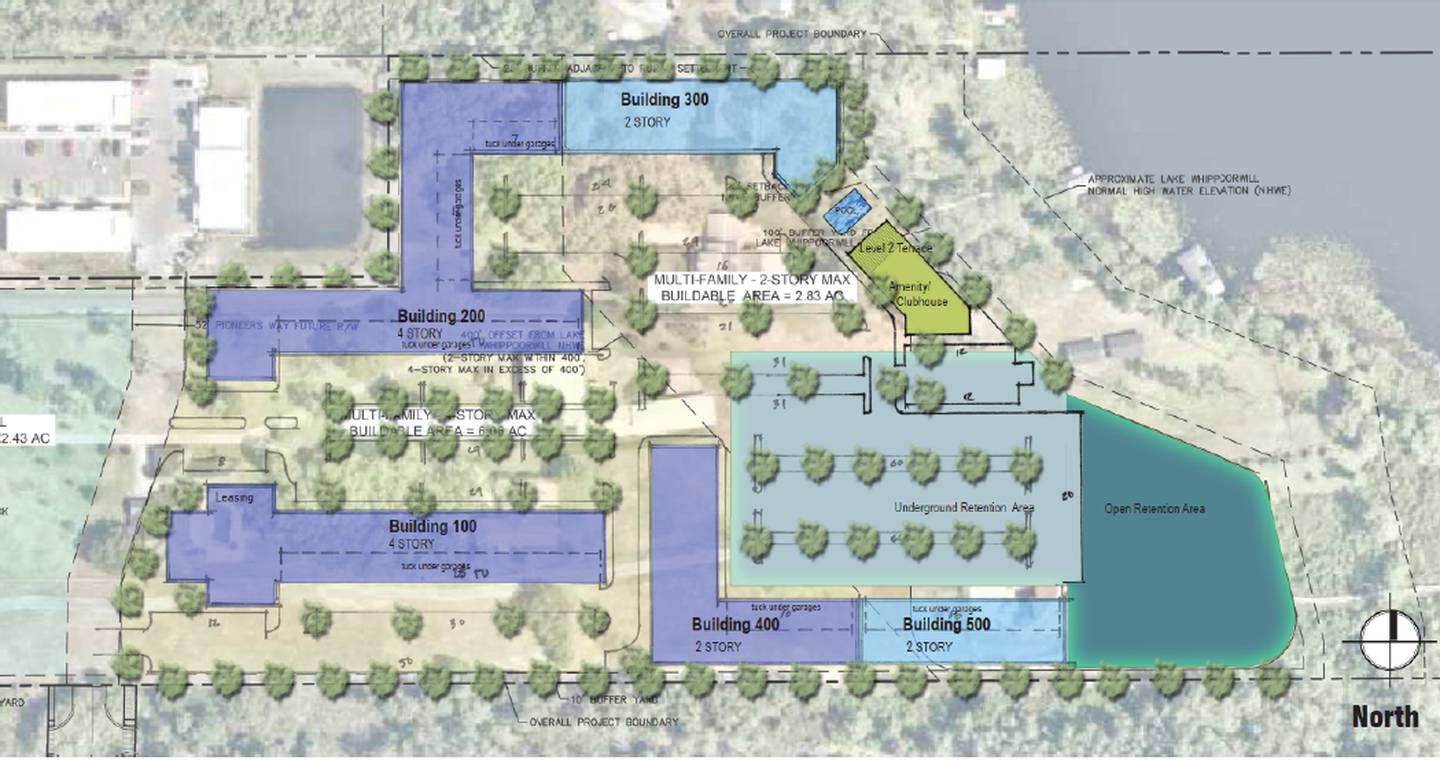 Tampa-based 2nd Wave Development has chosen a site on Narcoossee Road in Southeast Orlando for its next luxury apartment community.
Alissa Sieben, development manager, told GrowthSpotter the firm is under contract to buy the 25-acre assemblage on Lake Whippoorwill, subject to the annexation and rezoning of the property. This follows the completion of and opening of Prime at Sunrise City, 2nd Wave's first Central Florida community. The developer is a subsidiary of Sembler Investments.
The sellers are a group of neighbors who own seven contiguous lots immediately north of the new NOVEL Nona apartment complex, which broke ground earlier this month. Four of the neighbors applied for annexation last summer. After recruiting two more neighbors to join the assemblage, they are resubmitting with a new site plan and new representation by Lowndes shareholder Rebecca Wilson.
The land currently has Rural zoning in Orange County. The applicants are asking to be included in the Southeast Orlando Sector Plan with Urban Village future land use and Planned Development zoning.
When the owners first applied for PD zoning in 2020, they submitted a concept plan that would have divided the property into four zones with two commercial lots, a hotel pad and a multifamily site. The southernmost neighbor had planned to remain in his home and manage the hotel.
The latest plan more closely follows the existing development pattern along that stretch of Narcoossee between Lake Nona and S.R. 417. It would create a commercial section entitled for 30,000 square feet and a multifamily parcel with a maximum density of 377 dwelling units.
City staff is supportive of the application, noting in their report that "multiple Planned Developments have been approved that consist of commercial, or planned commercial, directly adjacent to Narcoossee Road, with multi-family residential development east of the commercial. The commercial and residential development areas are bifurcated by a north/south corridor, or frontage road, known as Pioneers Way. The proposed project will follow, and be consistent with, the existing pattern of development."
Those projects include Crescent Communities' Novel Nona and two projects from Bainbridge Companies: Narcoossee Cove (which recently opened) and Mission Pointe (under construction.) All follow specific design guidelines that limit the building heights close to the lakeshore and require them to construct a portion of the continuous lakefront trail through their property.
Sieben told GrowthSpotter the developer would be seeking the maximum density for the site. The apartment community would include a mix of 4-story midrise buildings and a 2-story stepped-down version of the same building. The pool and clubhouse will overlook the lake.
At Prime, 2nd Wave introduced a new amenity concept of indoor-outdoor gathering spots they dubbed "social caves." Sieben said they will forego the caves in the new project in favor of rooftop amenities that capitalize on the lake views.
"We're going to add a couple of boat docks," she said. "We will probably have kayaks and paddleboards as an amenity, as well as boat storage for our residents."
Brent Lenzen of Kimley-Horn is the assigned civil engineer and project manager. The architecture firm will be Dwell Design Studio, which also designed the neighboring Novel Nona complex.